NEWS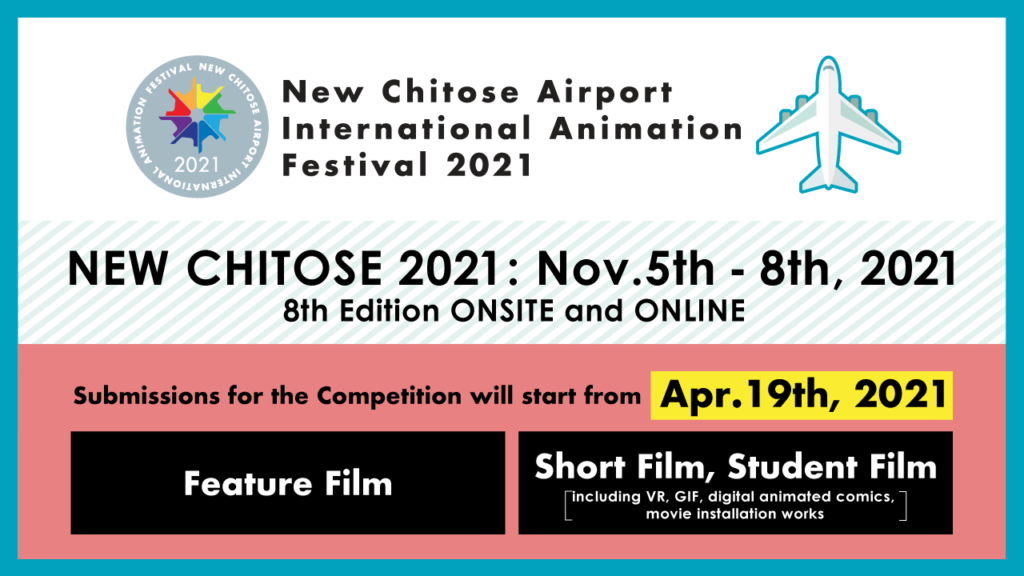 We are proud to announce the 8th edition of the festival: NEW CHITOSE 2021 from November 5th to 8th, 2021.
The 8th edition this year is held in a hybrid format consisting of both in-theatre and virtual screenings and events. The festival provides an exciting experience that is only possible as a one-and-only "airport festival".
Launched in 2014, the festival has been growing. In 2019 the year before COVID-19, it gathered about 43,000 attendees from all over the world, which was the highest number in the history of the festival. Last year, the festival took place in a hybrid format with online screenings that had more than 100,000 views.
The international competition, the main event of the festival, has received more than 2,000 films. Gathering attention from all around the world, now the festival is one of the most prestigious animation festivals in Japan.
The submission of all the competitions this year starts on April 19th. We accept GIF, VR, motion comics, and movie installations with animation techniques.
In 2020 "Wood Child & Hidden Forest Mother" (directed by Stephen Irwin) won the Grand Prix (short film) while "The Mark of Emi" (directed by Momoka Furukawahara) received the Japan Grand Prix. Grand Prix for Feature Film was awarded to "My Favorite War" (directed by Ilze Burkovska Jacobsen).
More information will be available soon at the official website. See you at NEW CHITOSE 2021!